Residential Garage Door Bottom Brackets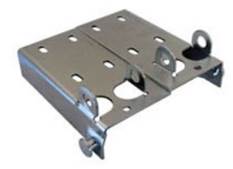 The bottom brackets are installed on the inside of your garage door at the bottom right and left side of the garage door.  The torsion cable is attached as well as the roller.  The residential garage door bottom brackets are under a lot of pressure from the torsion cable and torsion spring.
**DO NOT ATTEMPT TO FIX THIS YOURSELF. EXTREMELY DANGEROUS. COULD CAUSE SERIOUS BODILY INJURY OR DEATH!